Made in Burträsk
Wet bulbs play an essential role in every lumber kiln. They are needed to measure moisture, which is an important control parameter during the drying process. Valutec's wet bulb cloths are made in Burträsk, about 30 miles south of Skellefteå, and play an important part in Daglig Verksamhet (an employment placement service for the disabled).
The premises on Skolgatan in Burträsk is a hive of activity. In a bright corner room a team of workers, heads bowed in concentration, sit at the workstations.
When we visit them, a shipment of cloths has just arrived to be processed into wet bulbs for lumber kilns. It's a much appreciated task around here.
"It's interesting when you remember these cloths are sent all over the world," says Anna Lindström, who is a real pro on the sewing machine.
"This is a great job, and I've been doing it for many years," says Helene Wahlby, who today is working at the and station where she counts, stamps and packages the finished wet bulb cloths.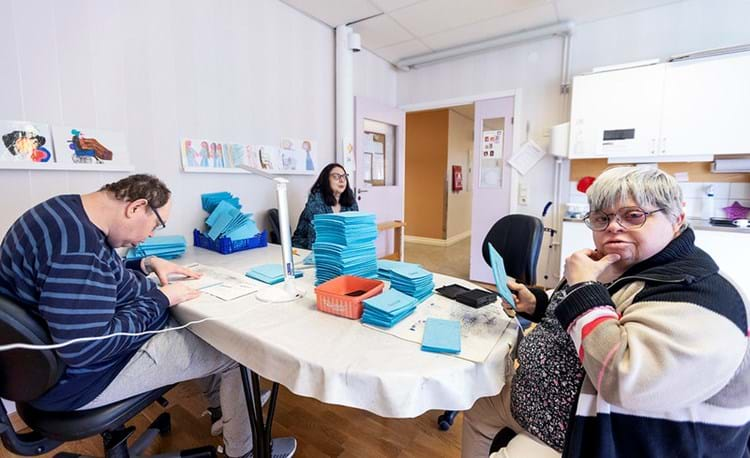 Marcus Nilsson, Ulrika Amin and Helen Wahlby are part of the team in Burträsk that produces hygrwet bulbs to Valutec. 
Important tasks
All of the employees have equally important tasks in the production chain, and many can switch between stations if necessary, maybe to help a friend or just for the sake of a change. There are both old hands and newbies. Markus Nilsson can do a bit of most everything, and today he's sitting at the first station, where he uses a pen to mark where the sewing machine will place its stitches.
"Things works well, but I sometimes miss my old job at the racecourse where I watered the horses. Here it's mostly indoor work," he says.
Today saw a truck deliver 4,000 cloths, and sometimes they need boxes and stamping ink when stocks get low. The first step is to remove the cloths from the plastic packaging before sending them to Markus at the marking station. Today, he's sharing this work with Ethel Bodén, who's equally as deft with the pen.
"I like writing pads and pens, so this suits me well," says Ethel.
Experienced sewing machine operator
The next step is the sewing station, where an experienced pro is at the controls. Anna Lindström has been sewing wet bulb cloths for as long as she can remember. She has actually worn out two machines over the years, but Valutec immediately bought replacements. Things move fast where the needle meets the wick, and Anna controls the speed with a pedal.
"I've stitched countless thousands over the years. Previously we used yellow cloths, but now they are blue," she tells us. She places a cloth in just the right place and stitches along the ink line; everything is done at a furious pace. This is no hobby sewing machine, but a sturdy, powerful machine that can handle the thick wicks.
"Things usually go well until they go wrong." Sometimes I have to troubleshoot and then I get mad at the machine, but I don't curse like some of the others," says Anna, nodding toward her friends.
In all, around 10 people usually make up the wet bulb cloth team.
A sketch of a Valutec lumber kiln hangs on the wall next to her.
"On one occasion I went along and helped deliver the cloths to the office in Skellefteå," she tells us.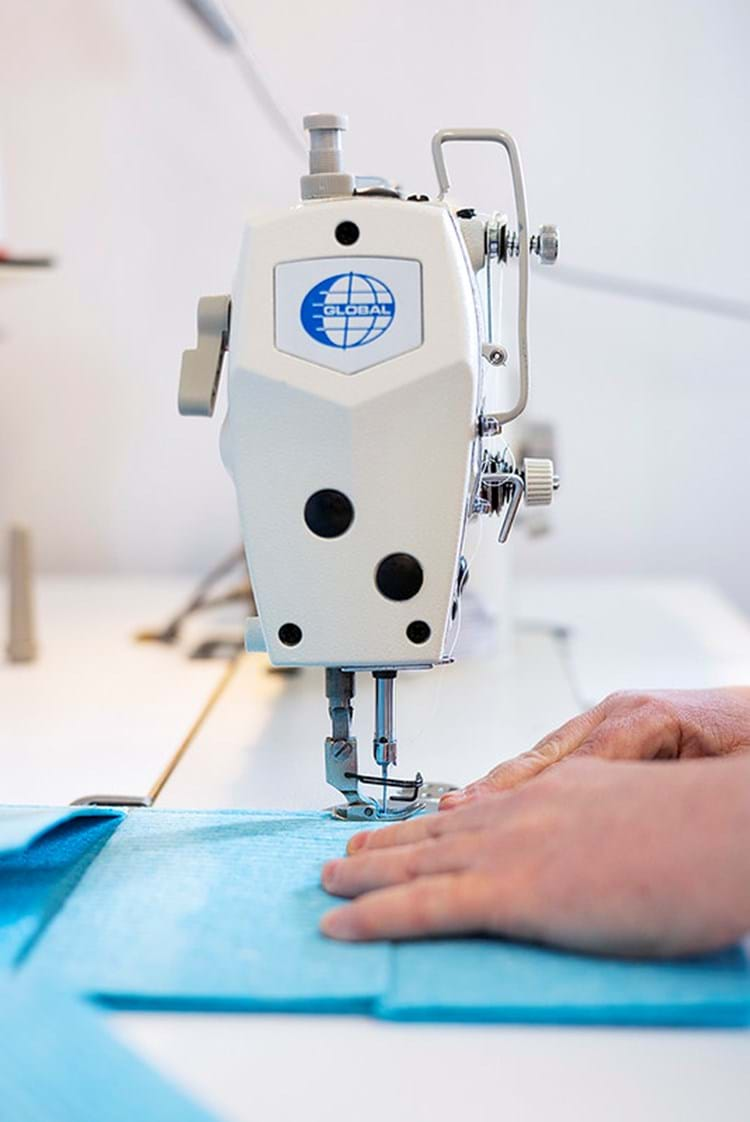 "Things usually go well until they go wrong",  says the experienced sewing machine operator  Anna Lindström. 

Great assignment
The team in Burträsk also does other contract work; some work part-time at the Konsum grocery store, while others do handicrafts.
"The Valutec assignment is great and we're happy that we get to do such a unique job. Our users feel this to be meaningful work. They enjoy having an interesting assignment, and many of them look forward to the next delivery and the opportunity to work. It's also important that we can tailor the work to each individual's unique abilities," says Marika Söderlund, support assistant at Skellefteå municipality in Burträsk.
High quality
Daglig Verksamhet seeks to provide stimulation, development, meaning and a sense of community to people of working age who have some form of disability. Valutec has engaged Daglig Verksamhet in Burträsk in the production of wet bulb cloths for around 15 years, and it has been a successful collaboration.
"Being able to help with a person's independence is very rewarding, and its a great plus if we can also help them participate in the local business community. We are also very satisfied with the quality of their work, which of course our long collaboration bears testimony to," says Robert Larsson, CEO of Valutec.

Once Anna has finished her seams, there is a clearly marked pocket where one of two temperature sensors must be placed. The cloths are now joined in a single long thread before they reach Ulrika Amin, whose scissors snip well-aimed cuts to separate them. Helene Wahlby – her neighbor at the table – then lines up ten cloths and imprints them using a Valutec stamp to confirm their origin before packaging and shipping.

Ready for use in one of Valutec's lumber kilns around the world. And in Burträsk they're already looking forward to the next batch.